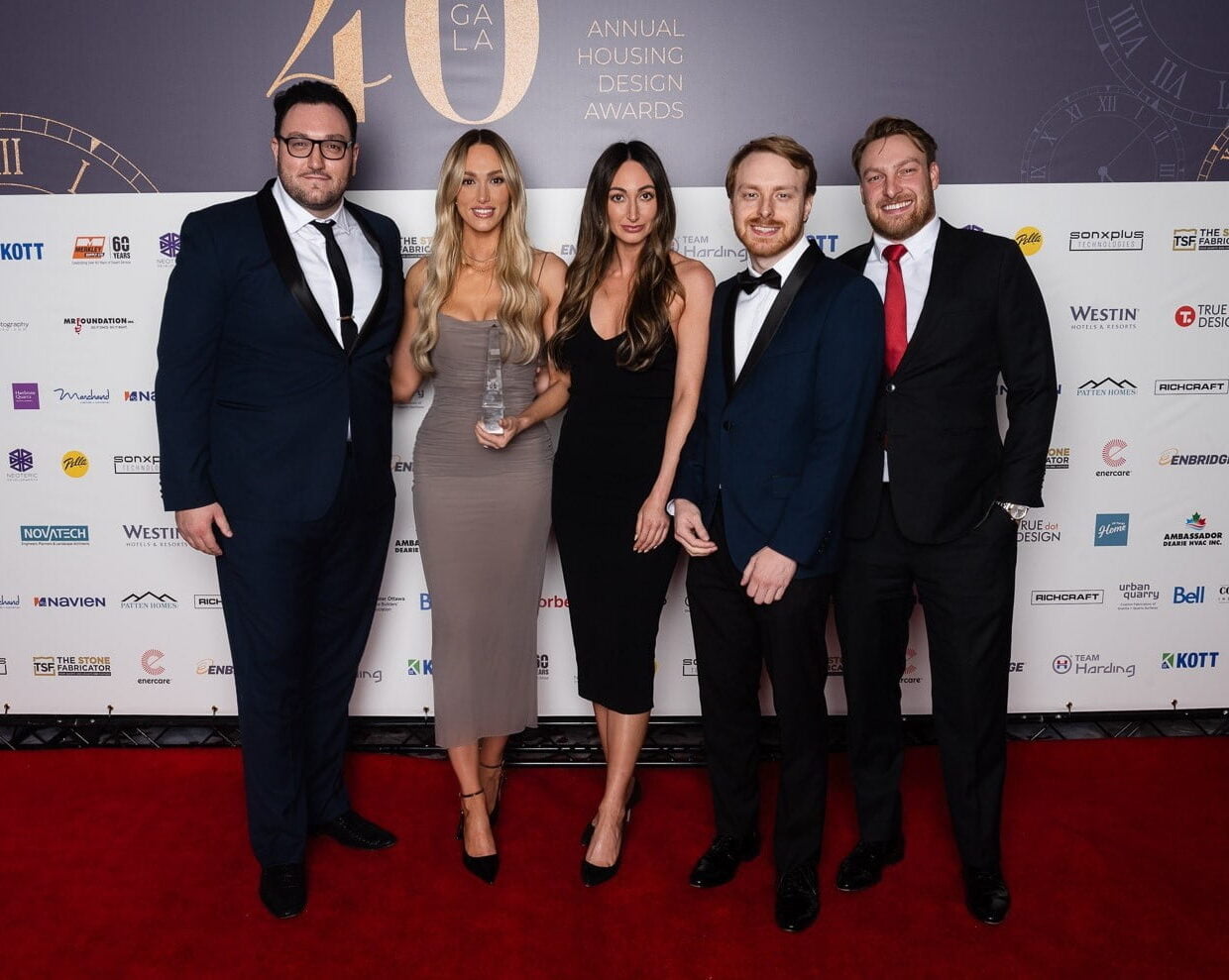 The Greater Ottawa Home Builders' Association's 40th Annual Housing Design Awards took place on November 4th, 2023 at The Westin, in Ottawa. Our team is thrilled to share that we won two trophies at the awards ceremony – each highlighting our commitment to exceptional home design and sustainability.
Green Building of the Year: Campanale, The Urban Terraces
New Community Underway: Campanale, Longfields Station
Thank you so much to the GOHBA judging committee for this prestigious honour!
We're so proud of our team and grateful for the ongoing support of our homeowners who continue to inspire us to create homes that reflect the designs they want, and need while prioritizing green building practices.
The Urban Terraces
The Urban Terraces is an exceptional 64-unit project that offers four distinct interior unit designs – the Mountaineer, Explorer, Pioneer, and Cascade. These designs cater to the diverse needs of renters in Barrhaven and have contributed to the project's undeniable appeal and success. The project's prime location, close to transit, parkland, shopping centres, and schools, adds to its allure.
The Urban Terraces are highly sought after and rarely left vacant, with wait lists for these beautiful units ranging from 1,116 to 1,239 square feet, with 2 bedrooms and 1.5 bathrooms. They have been efficiently planned, making use of every space available. One clever example is the storage potential under the staircase, which maximizes functionality and minimizes clutter, catering to residents who may be downsizing or retiring.
See more of The Urban Terraces.
Longfields Station
Campanale's Longfields Station subdivision is a planned mixed-use node currently under construction at the Longfields Rapid Transit Station in Barrhaven East. Its initial design was the basis of Campanale's successful acquisition of this property from the Ottawa Community and Land Development Corporation in 2012.
The Longfields Station subdivision is estimated to yield approximately 684 residential units across low-rise townhomes, stacked townhomes, back-to-back stacked townhomes, terrace flats, and mid-rise apartments. Mixed-use apartment buildings will feature approximately 44,641 square feet of commercial and retail space at ground level. The site can also accommodate greater density and further commercial uses as the subdivision is developed and Barrhaven progresses as a desirable suburb.
COMING SOON! Longfields Square II is our latest release at Longfields Station. This is where you will find a sustainable, energetic, growing community to enjoy for years to come. Featuring a collection of urban terrace homes and 2-storey lofts with private rooftop patios, you'll find the perfect layout to suit your lifestyle.
Interested in learning more about Longfields Square II? Register for details, here.